Trinidad & Tobago has it's very own christmas music – parang – which came from Venezuela to the twin islands and merged there with soca and calypso. Our Parang mixcd from 2005 features parang soca, classic parang and some parranda from Venezuela.
"We Parangin" – the soca soundsystems from Germany "BeatCamp" and " Constant Pressure Supasoca" (later fusioned to MashUp Crew) present you a nice selection of caribbean christmas soca & traditionals.
Mixed by Mudds and Marflix.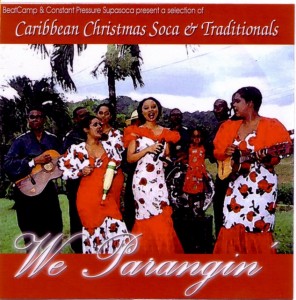 Parang-Soca mix (Mudds)
01. Scrunter – De Parang Now Start
02. Susan Macio – We Come Out to Dance
03. A Shuffler Band feat. Arlene – Parang Jam
04. Leon Caldero – Soca Chutney Parang
05. Singing Francine – Hurray Hurray
06. Machel Montano – Soca Santa
07. Nature – Chinee Parang
08. King Ajamu – The Cat Eat The Ham
09. Preacher – Bring Out The Ham
10. Marcia Miranda – Bring Out De Ham
11. Scrunter – Piece Ah Pork
12. Annesia – Bobulups
13. Susan Macio – Trini Christmas Is The Best
14. Scrunter – Anita
15. Sexy Suzy & Sprangalang – Baila Baila
16. De Illest – Parang In Paramin
17. Cro Cro – Is Boom Boom Parang
18. Rembunction – Mr. Santa Claus
Intoxicated Riddim:
19. King David – Trini Christmas
20. Leighanna – Come Home
21. Prestan – We Can't Wait
Christmas Riddim:
22. H2O Phlo – H2O Phlo Christmas
23. Lil Bitts – Esta Fiesta
24. Eddie Charles – Bring Sips
25. Granty – House To House
Bilah Riddim:
26. Generation X – Christmas Again
27. Sharla Dianne – Christmas Morning
28. Stevie P – Christmas Praise
Drinkin and traditional part (Marflix)
29. Myroon B & Toolum – Ah Next House
30. Sprangalang – Bring Drinks
31. Scrunter – Drink ah rum
32. Ataklan – Stagger
33. Professor Ken Philmore – Stagger Pan Version
34. Scrunter – Drink Anything
35. CroCro – Ayeeia
36. Marcia Miranda – Gimme Love
37. San Jose Serenaders – Medley
38. Denyse Plummer – Santa The Conducter
39. Sharlene Flores – Parang a la Trinidad
40. Cro Cro – Sai Sai Sai
41. Los Parranderos De UWI – Sabanendo
42. Rio Manazanares – Viva Nueva
43. Aguinaldos Margaritenos – El Nino Jesus
44. Romanon – Marenda
45. Voces Jovenes – Sintiendo La Navidad
46. Barrio Obrero – La Virgen De La Gaia
47. Universidad De La Gaita – El Marciano
48. Lara Brothers – Pasen Pasen
49. Grupo Candela – Parraquiano
Part 1 (Rapidshare
Part 2 (Rapidshare)
(192 kbps, ca. 68 & 46 MB, cover included)
downoad mix only
Beatcamp & Constant Pressure SupaSoca – We Parangin' by Constant Pressure