Danny Scrilla (MashUp Crew) and Tim Turbo (Seen) are on USA tour from next week on.. check the flyer and info:
Dear afterwork hipsters and social network daredevils, dear gang sign trainees and bathroom mirrow posers, dear lunch break pushers and holiday hookers, ghettoid life-forms and blockbusty beings, gang tattoo sticker collectors, bubblegum machine jewelers, hood rat raisers, ghetto whiskey brewers, cribwalk coaches and drive-by-shootingstars, dear hobby thugs and sparetime gangsterettes, dear you,

Tim Turbo (Info) and Danny Scrilla will be on "Lazerdaze Summertour 2009" presented by seen. and TropiCali Prod in the first two weeks of august. Starting in California's north we will lazer our way down the coast and then jump over to Texas, equipped with black duffle bags, brimful with Ghetto Lazerbass. We would love if you would like to help to promote the tour a little bit with posting our tourmix hosted by Prince Zimboo (Info) and loaded with exclusive tunes (remixes, own productions and our Munich bass gangmembers Schlachthofbronx) on your blog or page or telling your friends, family and hood to be there or be square like a stamp on our postcards to Germany.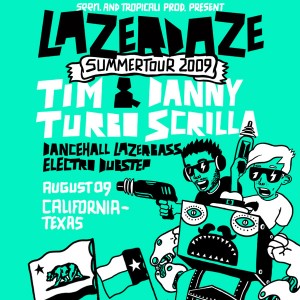 Tracklist:
01 The Count & Sinden – Mega (Club Mix)
02 Silvio Ecomo & Chuckie – Moombah (Afrojack Remix)
03 Crookers Ft MC Dandao – Soca Ali Baba (Tim Turbo Remix)
04 Laidback Luke – Break Down The House (Funkstar Baltimore Club Bootleg)
05 Shystie – Pull It (Ill Blu Remix)
06 Jamtech Foundation – Golden Hen
07 Danny Scrilla & Tim Turbo – Song For Swjatoslaw III
08 Schlachthofbronx – Mad Instrument
09 Schlachthofbronx – Redbull & Guiness
10 Schlachthofbronx – Regulate
11 Major Lazer Feat Nina Sky And Ricky Blaze – Keep It Goin Louder
12 Schlachthofbronx Ft Kein Vorspiel – Chupchick
13 Schlachthofbronx – Good To Go
14 Boy 8-bit – A Town Under Siege (Danny Scrilla Remix)
15 Vato Gonzalez – Badman Riddim
16 Ms. Dynamite – Badgal (Crazy Cousins Remix)
17 Wittyboy ft. Wiley – Champagne (D.B. Remix)
18 Orien – Look At My Eyes
19 Marco Del Horno – Samurai (Rusko Remix)
20 Dead Prez – Hip Hop (Danny Scrilla Remix)
21 BBK – Too Many Man (Danny Scrilla Remix)
22 Danny Scrilla – Hench
23 The Others – Bazooka
24 Crissy Criss – Kick Snare
25 Rusko – Original Cut
26 Nastee Boi Ft E Man – Mussy Mad
27 Lethal Bizzle ft. Donaeo – Go Hard (DJ Q Remix)